RI Advice Group National charity partner: Camp Quality
Camp Quality is the children's family cancer charity that is committed to bringing hope and happiness to every child living with cancer, their families and communities through ongoing quality recreational, educational, hospital and financial support programs. It puts together fun, educational and optimistic programs to help each child and their family through their cancer journey. Camp Quality is all about fun therapy as 'Laughter is the Best Medicine'.
Since 2009 Camp Quality has been RI Advice Group's strategic charity partner and through our fundraising we have enabled over 54 children living with cancer to attend a Camp Quality camp (it costs around $550 to send each child to camp) and experience some well needed fun therapy.
Learn more about Camp Quality by visiting their website, campquality.org.au.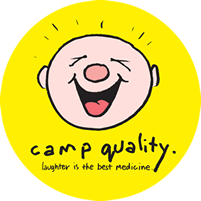 In Central Queensland
Personal Wealth Solutions have been regular yearly proud sponsors of the following important Central Queensland events –
Lions local special children's attendance to the Circus Quirkus Show
CQ Special Children's Christmas Party